Full Day Float/Wade Trip
Our most popular trip.
Most fishing days start with guests arriving at the Tackle Shop. A hot cup of coffee is provided as we work to get your fishing licenses and take care of needed paperwork. Our guides will be picking out the flies you need for the day from the impressive selection. Once the flies, licenses and rental waders or rods are secured our guides will discuss expectations for the day as well as plans with you.
You will then leave the store with the guide for the river. Once at the launch location you will get your gear ready as the guide prepares the boat for the day. We will also do a quick casting lesson to freshen up your skill. After a quick boat safety lesson the float is under way. As you float the guides vehicle is moved to the take out location so that it is ready when they arrive. We usually stop multiple times during the day to fish a promising run and to have a delicious stream side lunch with table and chairs. Our guides are really proud of their lunches and many are nicer then you will find in a local restaurant. These are no soggy sandwich on Styrofoam lunches. We are constantly asked, how do you pack all this in that cooler.
Once at the take out your guide will work to get the boat out of the water quickly while you store your gear. Our guides will return you to the store or any local hotel or lodging. Our full day trips are usually 8 hours on the water with half days about 4 hours of water time.
This is just a sample itinerary and we pride ourselves on being extremely flexible. Want to start late and sleep in great. Want to stay out late to hit the evening hatch we can do that as well. Need to be back in time for dinner with friends we can do that as well. Only have a few hours to get out on the water we can help
Our full day trips come with all the gear you will need as well as a great streamside lunch, snacks and drinks. We usually spend 8-10 hours on the water but can be customized to meet your schedule.
---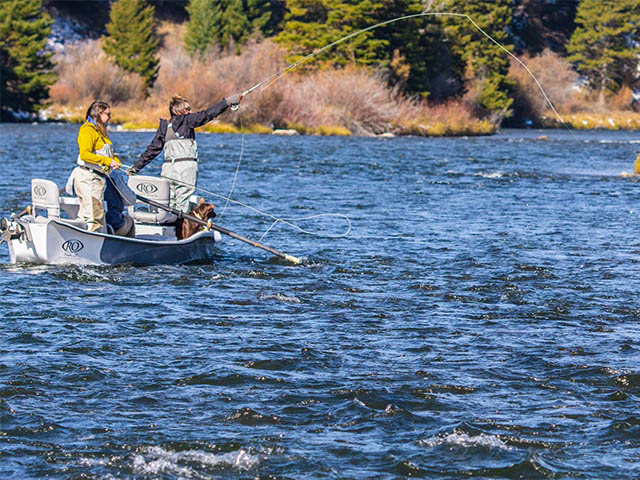 | # of people | Rate |
| --- | --- |
| 1 | $650.00 |
| 2 | $650.00 |
| 3 | $1,300.00 |
| 4 | $1,300.00 |